CAREER TREK
The Butte County Branches of AAUW, working collaboratively with Butte College, put on an annual career day for 8th grade girls.
CAREER TREK IS A FULL-DAY PROGRAM WITH SEVERAL IMPORTANT GOALS:
—Introducing girls to careers in science, engineering, mathematics and technology
—Providing the opportunity to interact with professional women in those fields
—Encouraging girls to take courses in high school that will enable them to attend college and be prepared to pursue careers they find of interest
—Visiting a college campus and visualizing themselves as college students
—Learning about the availability of financial aid
—Including parents in the program to help them become effective advocates for their daughters
The welcoming address given by Butte College President Perry.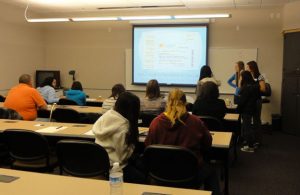 Pharmacy Workshop.