CHICO SCIENCE FAIR
Chico branch AAUW has for many years participated as staff helpers at the Chico Science Fair. The Science Fair is a 100% volunteer organization and appreciates the support of groups and individuals like AAUW. In addition, AAUW has, each year, given two special recognition certificates and awards to science fair projects of merit at the 7th and 8th grade levels.
One of the first Chico AAUW Tech Trek campers has now completed a PhD e at Georgia Tech. Vanessa was in town for the  Science Fair and acted as a judge. She was not only a Tech Trek girl but won top awards at the Chico Science Fair and California State Science Fair as a high school student.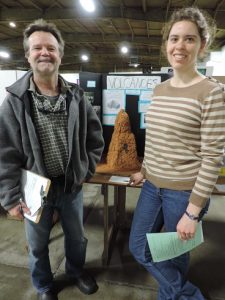 Two  projects were awarded prizes by AAUW at the Chico Science Fair.